5 Lubrication Myths That Are Costing You Money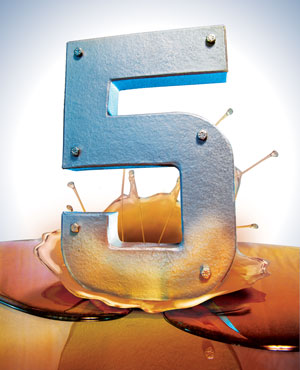 In the world of lubrication, there are many myths that surround certain practices or concepts that may be costing your organization hundreds or thousands of dollars. Some of the top myths are that OEM hardware accessories are satisfactory, filtering new incoming or stored lubricants and periodic decontamination are wastes of time, and the more grease the better (overgreasing). These seemingly harmless misconceptions could be holding your organization back from achieving a world-class lubrication and maintenance strategy and environment.
Myth #1: OEM Hardware is Satisfactory
OEM hardware accessories, including small vent-plug breathers, dipsticks and non-metallic drain plugs, are doing your equipment more harm than good. When in pursuit of lubrication excellence and world-class maintenance, you should consider removing these devices and outfitting your equipment with proper contamination control devices such as desiccant or hybrid breathers, minimess sampling valves, magnetic drain plugs, quick connectors, vented sight glasses, bottom sediment and water bowls (BS&W), etc.
Modifying your equipment to exclude contaminants is more than half the battle. The best way to do this is to make sure you can perform your lubrication tasks without opening up the equipment and exposing the interior atmosphere to exterior atmospheric contaminants. Performing routine inspections, top-ups and sampling should not be invasive to the equipment and should be easy to perform.
Keeping OEM hardware installed on your equipment could be costing your organization thousands of dollars in maintenance costs due to repairs caused by contamination. It is far more cost-effective to spend the money upfront for proper contamination control hardware than it is to keep repairing equipment after it breaks.
Myth #2: The More Grease The Better
This is a costly mistake. Overgreasing can have many of the same negative side effects as undergreasing, plus the added cost of high lubricant consumption. Greasing can be thought of as a purging or filtering of contaminants from the bearing, but you should not exceed a calculated amount of grease when performing greasing activities.
The calculated quantity of grease for a bearing is based on its geometry and dimensions, which provide the ideal amount for re-lubrication. The misconception is to apply more grease than needed to purge out contaminants.