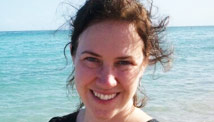 Editor's Note: Kerry Egan is a hospice chaplain in Massachusetts and the author of "Fumbling: A Pilgrimage Tale of Love, Grief, and Spiritual Renewal on the Camino de Santiago."
By Kerry Egan, Special to CNN
As a divinity school student, I had just started working as a student chaplain at a cancer hospital when my professor asked me about my work. I was 26 years old and still learning what a chaplain did.
"I talk to the patients," I told him.
"You talk to patients? And tell me, what do people who are sick and dying talk to the student chaplain about?" he asked.
I had never considered the question before. "Well," I responded slowly, "Mostly we talk about their families."
"Do you talk about God?
"Umm, not usually."
"Or their religion?"
"Not so much."
"The meaning of their lives?"
"Sometimes."
"And prayer? Do you lead them in prayer? Or ritual?"
"Well," I hesitated. "Sometimes. But not usually, not really."
I felt derision creeping into the professor's voice. "So you just visit people and talk about their families?"
"Well, they talk. I mostly listen."
"Huh." He leaned back in his chair.
A week later, in the middle of a lecture in this professor's packed class, he started to tell a story about a student he once met who was a chaplain intern at a hospital.
"And I asked her, 'What exactly do you
do
as a chaplain?' And she replied, 'Well, I talk to people about their families.'" He paused for effect. "And
that