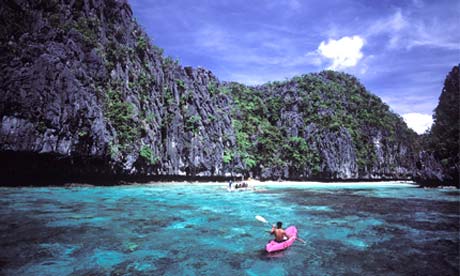 O

n location ... Alex Garland's The Beach is set in Thailand but took much of its inspiration from beaches like Palawan in the Philippines. Photograph: George Tapan
1. Las Islas Cies, Galicia, Spain
Mention Spanish beaches and most people instinctively think of the Mediterranean. Yet the wilder, stunning Atlantic coastline of Galicia, just north of Portugal, has far more dramatic praias – with far fewer people on them. One of the jewels of this coast is on Las Islas Cies, a 40-minute boat trip from the pretty town of Baiona. Once a pirates' haunt, Cies is now an uninhabited and pristine national park, open to the public only in summer. Galegos come here to spend long, lazy summer days on the Praia das Rodas, a perfect crescent of soft, pale sand backed by small dunes sheltering a calm lagoon of crystal-clear sea.
Locals call this their "Caribbean beach", and the water is turquoise enough, the sand white enough to believe the comparison … until you dip your toe in the water. Then it feels more like Skegness. You can sleep in an idyllic campsite, shaded by tall pine trees, with a view over the ocean. And, this being Spain, there's even a proper restaurant serving great seafood.
Where to stay: Camping Islas Cies is open Easter week and June-September.
2. Tayrona national park, Colombia
I've never been as instantly impressed by a beach as I was the moment I set eyes on Tayrona. After a 40-minute hike through the forest, I was expecting to see a classic Caribbean beach, all white sand and calm turquoise water, perhaps a few cabanas for the tourists. Instead I was greeted with a wild sea crashing on to rocks the size of houses that are dotted along the untamed and semi-deserted beach. In a country with a "healthier" tourist industry Tayrona would undoubtedly be a major resort, but as it's in Colombia the virgin rainforest cascades down the mountainside right on to the sand. And there was no one on it save a small community of backpackers who sleep in open-air hammocks.
On arrival I wandered along it, marvelling at the raw beauty and remoteness of the place but after just 10 minutes I quite literally walked into my friend Jim! It was the unlikeliest spot for a "you'll never guess who I bumped into" travel story, and made for the best beach holiday I've ever had. I gather it's become more popular in the ten years since I was there, but thanks to its national park status the developers have been kept at bay.
Where to stay: Under the stars in a hammock strung between two palm trees.
3. Porto da Barra, Salvador, Brazil
Sydney has Bondi, LA has Venice, Rio has Copacabana and Ipanema - town beaches that are both world famous and a microcosm of their city itself. I lived in Salvador, Brazil's oldest city, for several years and Porto da Barra was where I would come for an early morning swim or a cold beer in the late afternoon. The location is stunning, at the entrance of the magnificent Bahia de Todos os Santos,