50 Extreme Guinness World Records
1. Fastest 100-meter hurdles wearing swim fins, individual, female
The fastest 100-meter hurdles wearing swim fins by a female is 22.35 seconds. It was achieved by Maren Zönker of Germany in Cologne, Germany, on Sept. 13, 2008.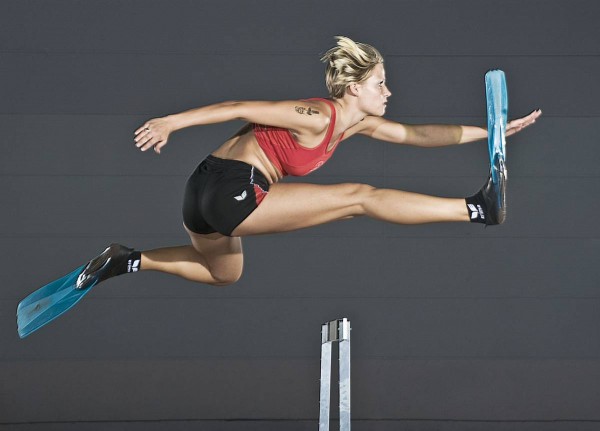 On May 4, 1951, Sir Hugh Beaver, then the managing director of the Guinness Brewery, went on a shooting party in North Slob in County Wexford, Ireland. He became involved in an argument over which was the fastest game bird in Europe, then later realized it was impossible to confirm in reference books. He then thought that a book supplying answers to such questions could be popular.
The first 197-page edition of the "Guinness Book of Records" was bound on Aug. 27, 1955, and went on to the top of the British best-seller list by Christmas. Over 400 million copies have sold since the first edition. The most recent one to hit the shelves is the "Guinness World Records 2010." Here is list of 50 interesting Guinness records that will surely amaze you.
2. Most people dressed as Smurfs
The most people dressed as Smurfs was 1,253 and was achieved by the Muckno Mania Festival in Castleblayney, Co Monaghan, Ireland, on July 18, 2008.
3. Largest rubber band ball
Joel Waul, pictured, of the United States pushes his bouncing creation.The largest rubber band ball, which weighs 4,097 kilograms (9,032 pounds), was measured in Lauderhill, Fla., Nov. 13, 2008.
4. Largest pocket knife
The world's largest pocket knife measures 3.9 meters (12 feet, 8 inches) when open, and weighs a total of 122 kilograms (268.9 pounds). It was designed by Telmo Cadavez of Bragança, Portugal, and handmade by Virgilìo, Raúl and Manuel Pires of Portugal, Jan. 9, 2003.
5. Heaviest lemon
The world's heaviest lemon weighed in at 5.265 kilograms (11 pounds, 9.7 ounces) on Jan. 8, 2003, and was grown by Aharon Shemoel on his farm in Kfar Zeitim, Israel.
6. Tightest frying pan roll
The tightest circumference of a 30 centimeter (12-inch) aluminium frying pan, rolled with bare hands in 30 seconds is 17.46 centimeters (6.87 inches), set by Scott Murphy at the NXB Team Training Center in Myrtle Beach, S.C., on July 30, 2007.
7. Most beer steins carried over 40 meters, female
The most beer steins carried over 40 meters (131 feet, 3 inches) by a female is 19. This was achieved by Anita Schwarz in Mesenich, Germany, on Nov. 9, 2008, in celebration of Guinness World Records Day.
8. Longest distance on a unicycle in 24 hours
Sam Wakeling covered 453.6 kilometers (281.85 miles) on a unicycle in a 24-hour period at Aberystwyth, Wales, United Kingdom, from Sept. 29-30, 2007.
9. Largest collection of 'Do Not Disturb' hotel signs
Jean-François Vernetti of Switzerland has collected 8,888 different 'Do Not Disturb' hotel signs from 189 countries across the world since 1985.
10. Longest fingernails, both hands
Melvin Booth (left) of Troy, Mich., had a combined fingernail length is 9.05 meters (29 feet, 8.3 inches). Lee Redmond(right), who had not cut her nails since 1979 and had them carefully manicured to reach a total length of 8.65 meters (28 feet, 4.5 inches), lost them when they broke off in a car accident in February.
Story
Woman with longest nails loses them in a crash
Lee Redmond, who held a Guinness World Record for her more than 28-foot-long fingernails before they broke off in a car crash, says it was the most dramatic event of her life. But the 68-year-old also admits that things are much easier without them.
11. Most T-shirts worn at once
The record for the most T-shirts worn at once is 227 and was achieved by Jef Van Dijck in an attempt organized by Unizo in Brecht, Belgium, on April 24, 2008.
12. Stretchiest skin
Garry Turner of Great Britain is able to stretch the skin of his stomach to a length of 15.8 centimeters (6.25 inches) due to a rare condition called Ehlers-Danlos Syndrome, a disorder of the connective tissues affecting the skin, ligaments and internal organs. The collagen that strengthens the skin and determines its elasticity becomes defective, resulting in, among other things, a loosening of the skin and hypermobility of the joints. In more serious cases, it can cause the fatal collapse or rupturing of blood vessels.
13. Most Mentos in soda fountains
The most Mentos and soda fountains achieved in the same place is 1,911, and was conducted by the people of Latvia and students of TURIBA in Riga, Latvia, on June 19, 2008.
14. Heaviest jicama (yam bean)
The heaviest Jicama weighs 21 kilograms (46 pounds, 4.8 ounces) and was grown by Leo Sutisna in Bandung, West Java, Indonesia.
15. Largest display of Star Wars clone troopers built with interlocking plastic bricks
The world's largest display of LEGO® Star Wars™ clone troopers was composed of 35,310 individual models and was built by LEGO® in Slough, U.K., on June 27, 2008.